Adopt a Room
Want to join us in rehabbing a house to become a home – room by room?
You can be! We are rehabbing a house at 365 James Avenue. in Aberdeen through a new approach. We are funding it room by room.
As the rooms are "sold" to donors, the "room adopters" will be promoted on a large sign at the build site. The family, business, or church name will be recognized as the room sponsor. Sponsors will also receive recognition of their logo or family name on our website, and social media, as well as the satisfaction of knowing this donation will go directly toward rehabbing this home, room by room.
We also welcome room sponsors to join us volunteering to rehab this home, and attending the dedication ceremony where room donors will be recognized and you will literally see the house you helped rehab become a home.
To adopt a room, or for more information, please contact Megan Lally at Mlally@habitatsusq.org or 410-638-4434 x7 or Phyliss Mosca at
pmosca@habitatsusq.org

or 410-638-4434 x7238.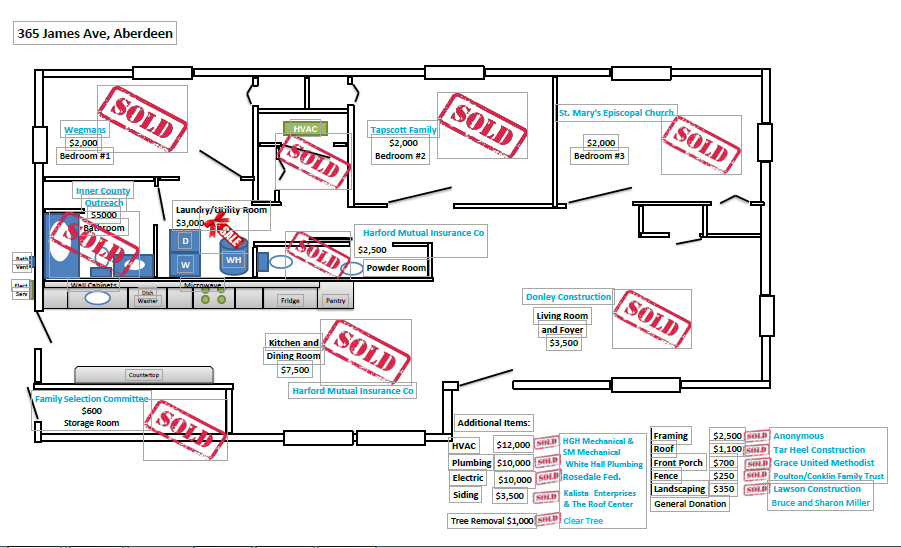 Below are some photos of the house currently as well as the story and photo of the family who will be purchasing the home.
If you are a licensed contractor, your sponsorship can be in kind providing materials and/or labor – and it is still tax deductible.
Will you join us by sponsoring a room, or joining together with others to do so?
Simply Click on photos below to enlarge them.