No doubt about it, this past year has been… a lot. All of us have felt the effects of COVID-19, some more than others but we have all been impacted.
For Habitat for Humanity Susquehanna the pandemic has increased the cost of building and repairs, as our ability to welcome volunteer groups has been paused and some grants we've received in the past (such as to help with repairs for Veterans), were given to other organizations this time around. Simultaneously, the pandemic has shown us that for many, safer at home is simply not true, especially during a pandemic. Therefore, while our costs have increased, the need for affordable, decent housing has increased too.
However, as an ecumenical Christian housing ministry, we count our blessings as well and look forward to Lent as a time of reflection, gratitude and an opportunity to go deeper with God. During Lent, many people focus on prayer, fasting (abstaining from something to reduce distractions and focus more on God) and giving, or charity.
We invite you, your family, congregation and friends to join us this Lent season – starting Wednesday, February 17th by participating in the devotion calendar below.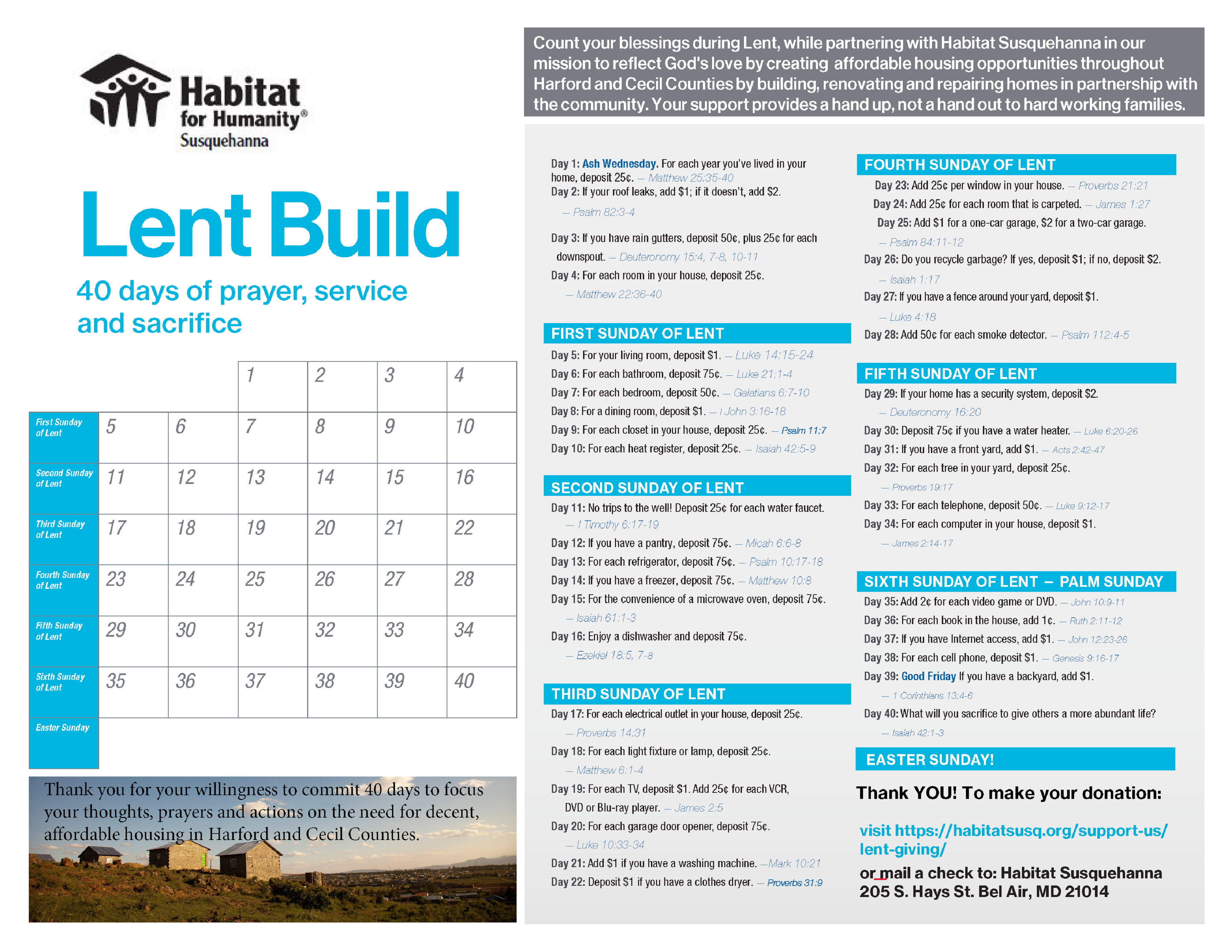 The Lenten devotion calendar provides a tangible way to thank God for the blessing of shelter while giving to those still in need of decent, safe, affordable housing. Habitat Susquehanna's mission seeks to put God's love into action and our vision is to create a community where everyone has an affordable and decent place to live. Participating in this Lenten calendar will help us focus on God's word, reflect on His love, count our blessings, and provide a way to share God's love, in action, giving back to local families who need a hand up, not a hand out.
This year the money raised from the Lenten calendar campaign will go towards our Repair Program. Our Repair Program has been helping low-income homeowners in the local community since 2008. To date, we have completed 653 repairs for 442 individuals and families, including Veterans and very low-income elderly persons, including the frail elderly, who are especially vulnerable. With fixed incomes and little or no earning potential, they cannot afford to repair their homes.
Habitat Susquehanna's mission is we seek to put God's love into action by building strength, stability, and self-reliance through affordable housing in Cecil and Harford Counties. This calendar provides a simple, yet tangible way to join us in our mission.
Would you and/or your congregants like to join us in doing this daily Lenten devotional?

Please invite friends and family too.
Click here

to make your donation
If you have any questions, or would like additional information please contact Phyliss Mosca at pmosca@habitatsusq.org.
Thank you,
Phyliss | donor and faith relations