Habitat for Humanity Susquehanna supports Veterans by employment, repair programs, Mission Continues https://missioncontinues.org and Team Rubicon https://teamrubiconusa.org.  We have two programs which serve and honor veterans and military families:
Heroes Build
Veterans interested in homeownership apply below.  The military community and volunteers will help build this house for a qualifying veteran or military family.
Local Veteran Gets New Roof
September 2, 2018:  Owens Corning Platinum Contractors are working with Habitat for Humanity to provide new roofs to Veterans and their families who are in need. Mr. Roland Schauer, a U.S. Army Veteran, will receive a new roof from Brothers Services Company, an Owens Corning Roofing Platinum Contractor, as part of the national Roof Deployment Project. This nationwide effort is a way to show gratitude and honor the Veterans who served our country and the families who support them.
"For over 30 years, Brothers Services has served communities throughout Maryland and we are proud to help give back to the Veterans who have given so much," said Dave MacLean, U.S. Air Force Veteran and Senior Vice President of Brothers Services Company.
Owens Corning Roofing and its network of independent Platinum Contractors, along with support from the Owens Corning Foundation, are donating roofing materials and labor to replace roofing shingles on the homes of military Veterans and their families throughout the country. Through a partnership with Habitat for Humanity Susquehanna, Mr. Schauer was selected and approved as the recipient for the roof replacement.
"We are grateful for this partnership with Owens Corning and Brothers Services Company," said Terry Hottle, Home Rehabilitation Supervisory at Habitat Susquehanna's Repair Program. "Collaborations like this help us serve more Veterans and ensure that we are providing them with a decent place to live in a safe and stable home."
For more information on the Roof Deployment Project or to learn more about how you can get involved, visit www.RoofDeploymentProject.com.
Veteran Stories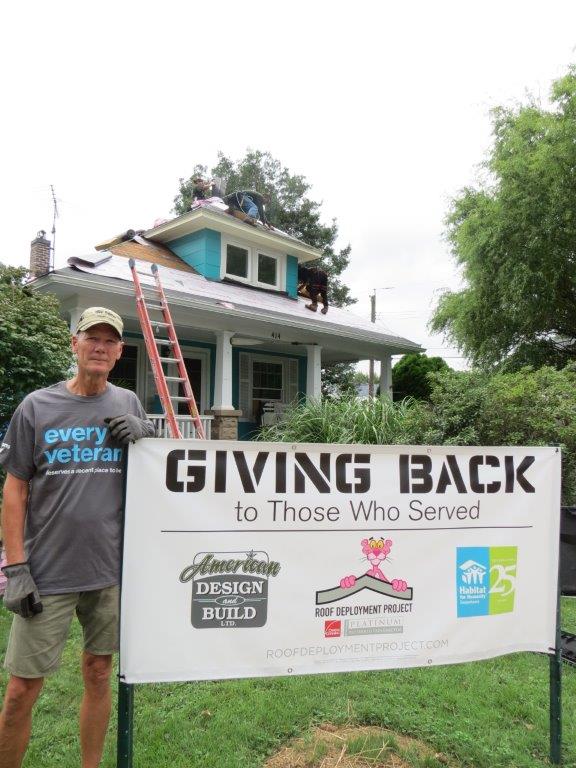 Roland Schauer is a bit of a renaissance man and jack-of-all-trades. He volunteered (during the Vietnam War) for the U.S. Army right out of high school, wrote a children's book, dabbled in photography and painting, built sailboats, invented and patented a balm to heal burns, raced boats, served as first mate on a cruise ship, and spent five years hitchhiking across the country working various jobs. He lived in many southern states in addition to California, Michigan, and St. John (U.S. Virgin Islands) before settling down in Harford County more than 30 years ago. He and his wife live in a 1925 Havre de Grace house where they raised three (now adult) children in their one-story, two-bedroom home.
One striking quality about Schauer is that when he wants to know something, he does an extreme amount of research to get his answers. It was through his investigative skills that he learned about Habitat for Humanity Susquehanna's Repair Program, applied to it and was approved through its qualification review process. The Repair Program serves low-income homeowners in Harford and Cecil counties by the critical home repair grants it receives (which can help with roofs, floors, walls, HVAC, plumbing, electrical, accessible ramps, grab bars and other accessibility modifications); and, weatherization grants (which can include attic and crawl space insulation, air sealing, caulking and weather stripping, etc.). The Repair Program also receives grants specifically to help Veterans with critical home repair needs.
In addition to these grants, the Repair Program has a partnership with the Owens Corning Roof Deployment Project – an initiative to provide new roofs, free of charge, to Veterans in need and their families. Thanks to this arrangement, over the past weekend Owens Corning donated the roofing materials and labor to replace Schauer's shingles, and its local contractor American Design and Build (part of Owens Corning's network of independent Platinum Contractors) installed the roof.
"We are grateful for this partnership with Owens Corning and American Design and Build," said Terry Hottle, the Repair Program's Home Rehabilitation Supervisor. "Collaborations like this help us serve more Veterans and ensure that we are providing them with a decent place to live in a safe and stable home."
The Repair Program will also arrange for Schauer's home to receive weatherization, install central air conditioning, install a new water heater, and make modifications to the bathroom to make it more accessible (i.e., removing the tub and replacing with a walk-in shower).
Schauer, who has been plagued with very serious medical issues, said that he was ecstatic and emotional upon receiving the news that Habitat Susquehanna would help him.
"It's quite humbling," said Schauer. "It reaffirms my faith in humanity that people are out there willing to help others without asking for anything in return. I will pay this forward somehow."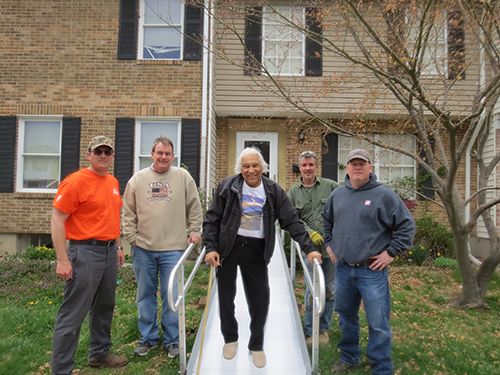 Maurice served in the U.S. Air Force during the late 1950s, primarily working as an aircraft mechanic. After receiving an honorable discharge from the Air Force, he joined the Navy for three years. Following his military career, he worked in a variety of occupations. He and his wife, Annie, live with their daughter Marcia in a townhome the couple has owned for 45 years. Although Maurice's bad knees require that he use a cane, Annie's disability makes her unable to leave the upstairs area of the house, so Maurice and Marcia carry meals up to her daily.
The family decided to apply to Habitat for Humanity Susquehanna's Repair Program, which is designed to help low-income homeowners in Harford and Cecil counties with critical home repair and weatherization needs. After it was determined that the family met the qualifications of the program, Home Rehabilitation Supervisor Terry Hottle conducted a house visit to assess what available Critical Repair and Weatherization grants could be used to help the family.
Then, the work began:
The family's roof was replaced free of charge thanks to the national Owens Corning Roof Deployment Project, a program that works closely with Habitat for Humanity to provide new roofs to Veterans. Brothers Services Company, an Owens Corning Roofing Platinum Contractor, donated the labor.
After an Energy Audit was conducted, recommended weatherization and insulation measures (paid for by a Maryland Energy Administration grant) were put in place based on the audit's recommendations.
Repairs were made to the basement stairs and lighting.
The upstairs bathroom was modified, replacing the bathtub with a wheelchair accessible shower, adding new grab bars and seat, and an adjustable height shower head.*
A stair chair lift was installed between the first and second floors of the home to enable Annie to come downstairs.*
Home Depot employees installed an aluminum 16-ft. accessible ramp from the front door to the sidewalk, paid for by a Team Depot Home Preservation grant.
*The accessibility bathroom modifications and stair chair lift were paid through funds from the Home Depot Foundation Veteran Program and Harford County's Community Development Block Grant.
A week after the accessibility ramp was installed, 45 of Habitat Susquehanna's volunteers came and performed A Brush With Kindness (ABWK) activities at Maurice's house and at approximately 15 other neighbors' homes in the First Harford Square neighborhood. The ABWK was paid for through a generous donation from the Southern Harford County Rotary (SHCR). Volunteers consisted of members of the SHCR; students from Notre Dame Preparatory School and Edgewood Lacrosse; congregants from Mountain Christian Church and Fork Christian Church; representatives from Sleep in Heavenly Peace and Empowering Minds; and, other interested individuals. The volunteers did general yard work, gardening, mulching, tree trimming and gutter cleaning. Free smoke detectors donated by the American Red Cross were also installed at the request of homeowners.
ABWK focuses on revitalizing the appearance of neighborhoods and strengthening connections within the community. It helps low-income homeowners who struggle to maintain the exterior of their homes, allowing them to reclaim their homes with pride and dignity. Habitat Susquehanna typically does ABWK in three designated neighborhoods each year – at Harford County's First Harford Square (Edgewood) and Swan Meadows (Aberdeen); and, at Port Deposit in Cecil County.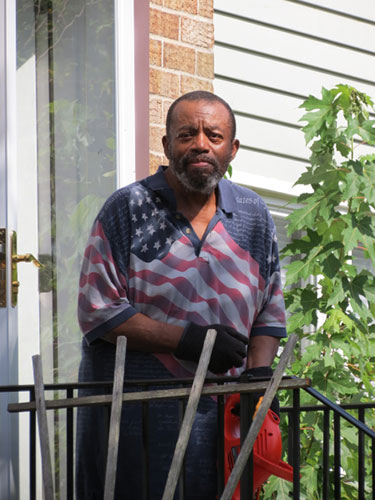 Otis Johnson, a Marine Corps veteran who did two tours of duty in Vietnam, has lived in his Edgewood home for the past fifteen years. It was Joyce, his wife of almost 36 years, who approached the Office on Aging to see what help was available to them when they began having problems with their house, such as with their windows and door.
"The Office on Aging told Joyce, 'What about Habitat for Humanity Susquehanna?'" said Johnson.
So, the Johnsons started the application process to see whether or not they met the qualifications for Habitat Susquehanna's Repair Program.  The Repair Program provides critical home repair and weatherization to low income homeowners. It charges 15 percent of the total bill as part of the "a hand up, not a hand-out" philosophy shared by other programs.
"The process I went through wasn't hard. I'd recommend this to anyone who qualifies for it," said Johnson.
During the qualification review process, Joyce, who had cancer and chronic lung disease (COPD), was hospitalized as her health continued to deteriorate. Johnson would often stop in the Habitat Susquehanna office on his way to the hospital to check on the status of his application so that he could report any news to his wife.
Sadly, ten days after their application for assistance was approved, Joyce passed away.
A home visit and assessment were done to determine what grants were available to fund the work. In the case of Johnson, he was eligible for a grant from the Home Depot Foundation which provides funding for critical repairs on the homes of veterans. Another source of funding – available to all qualified homeowners – was the Maryland Energy Administration grant. With these grants, Johnson received a new roof, front entry door, eight windows, washing machine, refrigerator, hot water heater, heat pump, and attic insulation. Light bulbs were also replaced and smoke and carbon monoxide detectors installed.  In addition, as part of a national effort to improve 100 homes with veterans, Wells Fargo volunteers removed a tree and fence, and made landscaping improvements to the property.
"The workers, volunteers and entire Habitat staff were very good and professional through the process. I'd give them five stars," said Johnston. "I'd tell my neighbors that if they need help, do it as soon as possible! What a blessing it was to get help from Habitat."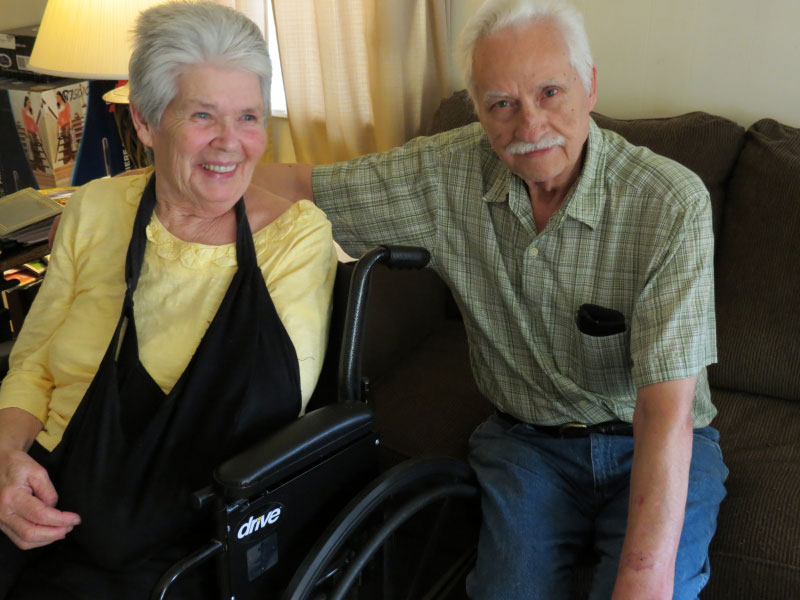 Joyce Ray opens a photo album and flips through the pages documenting the beautiful flower garden she had cultivated.  It has been such a great source of pride as she recounts the many neighbors who admired it through the years.
"They said it looked like a magazine, and that they couldn't wait until spring to go by and see what I had," says Joyce.
"All those pictures…we used to keep our yard like that," says her husband, Jimmy.  "And now it's gone."
The couple has lived in Harford County for 50 years, since the year they got married. They moved to their home in Havre de Grace 10 years later.  Sadly, a series of medical issues over the past year have made it impossible for Joyce to keep up with the garden she loved.
While Joyce broke her foot years earlier, her biggest health problems came within the past year when she suffered a silent stroke.  That was followed by a mini stroke at her home last July which landed her in the hospital.  While in the hospital, Joyce had a third stroke.  She is now paralyzed on the left side of her body and uses a wheelchair to get around.  She had surgery on a hematoma in her left hand, but it's due to the stroke that her hand remains in a sling.  Jimmy, a colon cancer survivor, is the major caregiver for his wife.
Their daughter, Theresa Jackson, has been very involved in trying to get Joyce some help in leaving the house.  She initially found someone who could donate a portable ramp but the Rays found it to be too slick and dangerous to use in bad weather.  Jimmy would have to push Joyce's wheelchair across the wet lawn to get to their car parked in the driveway – a very difficult feat.  So, Theresa helped her parents fill out a Repair Program application and they sent it to Habitat for Humanity Susquehanna for consideration.  Their application was approved.
Volunteers came to build the accessible ramp which was funded through Thrivent Builds Repairs, a program that focuses on helping complete external repairs on existing homes.
"We appreciate it so, so much," says Joyce.  "When you see someone giving their heart and soul to something and not expecting anything for it…they're good people.  It's nice to know there are people like that out there."
"I would definitely recommend Habitat," says Jimmy.  "They do excellent work.  They help people who really need to be helped, and who can't help themselves."
Now Joyce has a ramp that leads all the way to the driveway.  Her goal is to try to regain some of her strength by using the grip rail attached to the ramp.  In fact, she asked Habitat to install a second grip rail on the other side, so that she can one day pull herself up, stand and walk.
"It has given my mother hope when she was beginning to lose hope," says Theresa.
Habitat for Humanity Susquehanna and Thrivent Financial are doing great things together! The Thrivent Builds Repairs program recently partnered with Habitat's Repair Program and helped Joyce and Jimmy Ray get an accessible ramp for their home. We hope to have many more partnering opportunities with Thrivent in the future as we strive to serve our Harford and Cecil communities in need.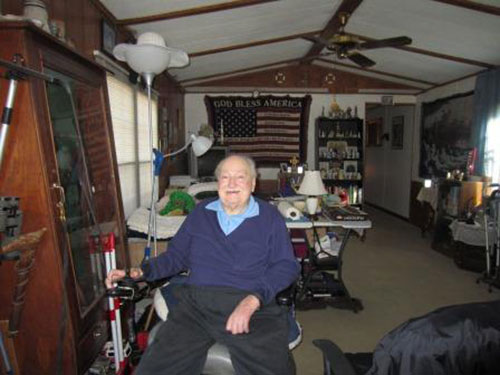 Walter Jermyn is a hardworking, cheerful man who served in the Army as a mechanic in 1953. After serving in the Army, Walter worked for various contractors fixing motors. Walter used to do many of his own home repairs until his health issues limited his ability. Linda Rawling, a neighbor who lost her mobile home, lives with Walter as a caretaker. The mobile home that Linda and Walter are living in was in need of a new roof and flooring. Christmas in April, a nonprofit based in Cecil County that helps with urgent home repairs, referred Walter to our Repair Program. Once our Repair Program Manager, Carol Suzdak saw the damage she recruited volunteers to make sure that Walter's wish to remain in his home for his final years came true. Both Linda and Walters were so appreciative and felt extremely blessed that our Repair Program saved them from being homeless. Linda said,
"You won't find two more grateful people, there are just no words.
There will forever be sunshine following Carol and everyone that helped!"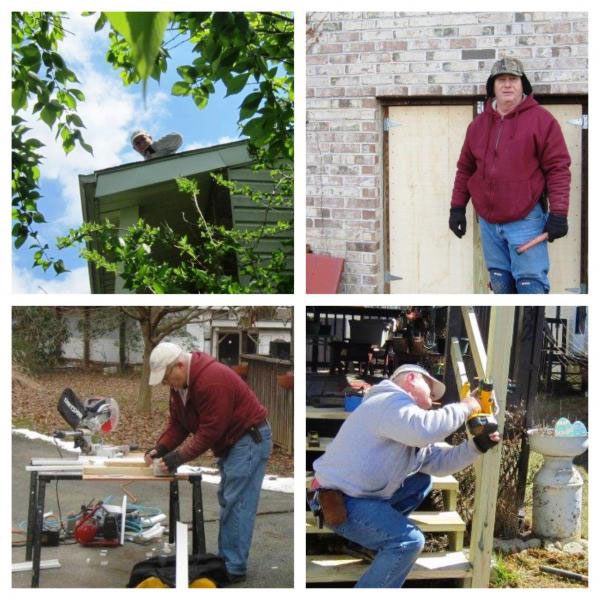 On November 1, 2012, Scott DiGennaro became one of Habitat for Humanity Susquehanna's most dedicated Repair Program volunteers. Since November 2012, he has worked on 20 houses and has contributed over 100 volunteer hours. Mr. DiGennaro is not only a devoted volunteer, he is a Navy Veteran who served on the USS Enterprise. By efficiently repairing homes for our Repair Program families, Scott has saved Habitat for Humanity Susquehanna over $5,000. Thanks to him, the Repair Program is able to serve even more families.  Thank you, Scott, for your faithful service!