ReStore Volunteers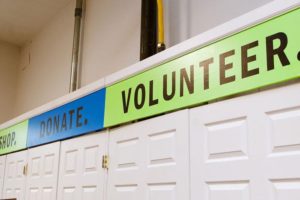 Are you looking for something fun to do while giving back to the community?
Volunteer at ReStore! 14-15 year olds can volunteer if accompanied by a parent or guardian. We are always looking for volunteers Tuesdays 9am to 4pm, Wednesday-Friday 10am to 6pm, and Saturday 9am to 4pm.. Most volunteers do 2hr to 4hr shifts. But, we are flexible if you would like a shorter or longer shift.
Volunteer Opportunities
Social Media Content Creator
Volunteers would assist staff in creating new content for ReStore social media platforms(Instagram, twitter, facebook). Activities would include spotlighting our new donations and events.
Donation Processing:
You can help accept donations at our drop-off center or assist on donations pickups.
Customer Service:
We need volunteers to be ReStore ambassadors by assisting customers and cleaning our sales floor.
Furniture Repair:
We often get furniture in the store that is in need of minor repair, and can utilize volunteers who can help fix items.
Teaching Workshops:
We are looking for people who would be able to share their expertise and knowledge on a monthly basis to teach basic skills and fun projects.
Metal Scrapping:
Volunteers would dissemble appliances, furniture, and construction materials to be recycled.
---
New ReStore Volunteers:
If you are a NEW RESTORE VOLUNTEER, welcome! Signing up is easy!
Create an account
Fill out the Restore Volunteer Information form and sign the Liability Waiver. (If you are under 18, please print out and sign the Youth Waiver
View the Prezi Presentation
Take a one-question quiz to confirm viewing the presentation and accept the role of Restore Volunteer
**Please note: This process takes about 20 minutes and must be completed in one sitting**
---
Existing ReStore Volunteers:
If you are an existing restore volunteer, please log in and proceed to the ReStore Calendar (Volunteer → ReStore Calendar).
THANK YOU FOR VOLUNTEERING WITH HABITAT FOR HUMANITY SUSQUEHANNA!
Location:
1013 Beards Hill Road
COVID-19 Store hours:
Tuesday 9 am-4 pm
Wednesday 11 am-6 pm
Thursday 11 am-6 pm
Friday 11 am-6 pm
Saturday 9 am-4 pm
COVID-19 Donation hours:
Tuesday 9 am-3 pm
Wednesday 11 am-5 pm
Thursday 11 am-5 pm
Friday 11 am-5 pm
Saturday 9 am-3 pm