Group Builds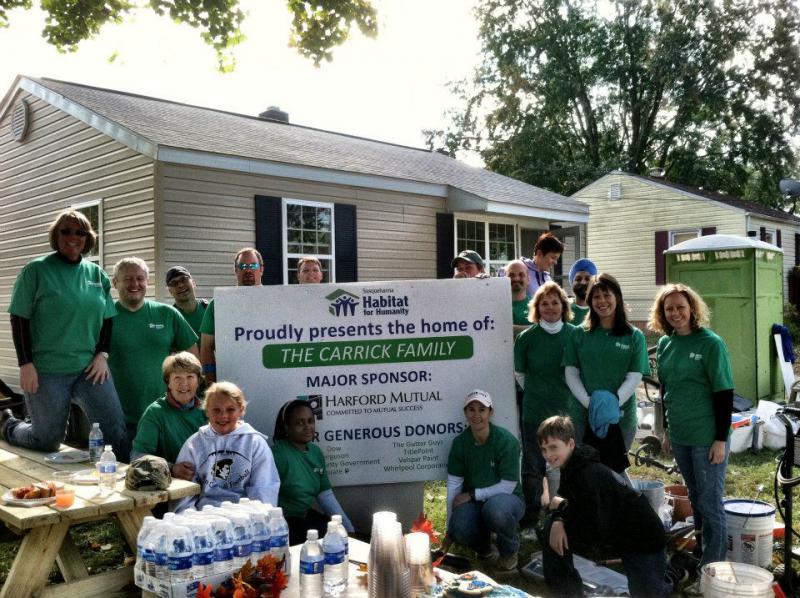 Habitat is following CDC and the State of Maryland's covid guidelines. In order to keep social distancing at our sites, Habitat for Humanity Susquehanna will be accepting groups of 10 people or less. Vaccinated volunteers do not need to wear masks on site as long as we can keep social distance between everyone at the sites. This will be at the discretion of our site supervisors. Unvaccinated volunteers will be required to wear masks on site. This will be on the honor system.
Each year, Habitat for Humanity Susquehanna welcomes many volunteer groups from corporations, small businesses, congregations, youth groups, civic associations, area nonprofits, and academic, professional and community organizations.
Building as a group not only allows volunteers to give back, but it develops a strong sense of camaraderie and teamwork.
Corporate Team Builds
Beginning July 1, 2022, We will offer Team Build Days to Corporate Groups. With 10 (or more depending on size of build site, several days can be substituted to satisfy Covid-19 protocols) volunteers and a donation of $2,500* Corporate Groups experience an exclusive day of service, just for their team. Working directly with our construction supervisor, your group will learn new skills while interacting with each other in a unique and open atmosphere. Team Build partners receive promotional benefits, including lunch, group photography throughout the day, recognition in Habitat publications, Habitat swag for participants and social media shout-outs. Your financial contribution directly supports Habitat Susquehanna's mission; buying lumber, drywall, windows, doors and more to keep building decent, affordable homes for families in need.
To become a Habitat Susquehanna Team Build partner, contact our Volunteer & Community Outreach Coordinator, Jessie Ingold at jingold@habitatsusq.org
* The donation amount is subject to change with the size of the Team build group. More information will be provided through communication with the Volunteer Coordinator.