ReStore Donations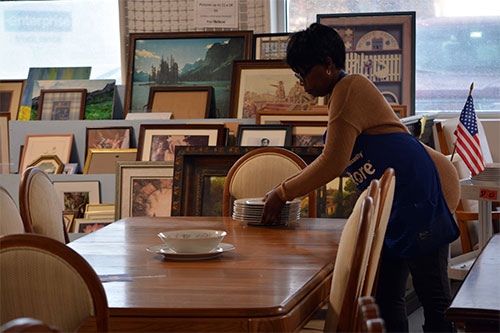 We accept many gently used items – divert waste from the landfill – AND help you make room, while giving you the satisfaction that your support has provided local families with homes, community and hope.
Remodeling, cleaning out, downsizing or just getting organized? Consider donating your excess household goods and building materials to our Habitat ReStores. We'll gladly take new and gently-used items off your hands, and you'll get the satisfaction of knowing they helped support local families and didn't end up in the landfill. All of your donations are tax-deductible.
DONATIONS are accepted at the store Tuesday and Saturday 9 am until 3 pm , Wednesday through Friday 11 AM until 5 PM. One big change : We are no longer accepting any fabric furniture due to Covid.
You can also CLICK ON "SCHEDULE A PICK UP " tab on the bottom right of the screen to schedule a free pick-up of new or gently used furniture or appliances. Our pick ups on average are booked three to six weeks in advance so please plan ahead.
If you wish to make a monetary donation to Habitat for Humanity Susquehanna, click here!

You can drop off items that will fit into your vehicle to us at :
1013 Beards Hill Road
Aberdeen, MD 21001
Phone: (443) 567-7698
COVID-19 Donations – RESIDENTIAL PICKUP WILL BE CURB SIDE ONLY. WE CANNOT ENTER ANY RESIDENTIAL HOME.


Free Local Pick up
Pick-Up requests are processed on a daily basis when the ReStore is open, so our scheduler should contact you within a 24-48 hours.

Are you a commercial or business donor that would like to donate items? Please email us at restore@habitatsusq.org to discuss what items you would like to donate.
---
Have something to donate?
---
Location:
1013 Beards Hill Road
COVID-19 Store hours:
Tuesday 9 am-4 pm
Wednesday 11 am-6 pm
Thursday 11 am-6 pm
Friday 11 am-6 pm
Saturday 9 am-4 pm
COVID-19 Donation hours:
Tuesday 9 am-3 pm
Wednesday 11 am-5 pm
Thursday 11 am-5 pm
Friday 11 am-5 pm
Saturday 9 am-3 pm