ReStore Donations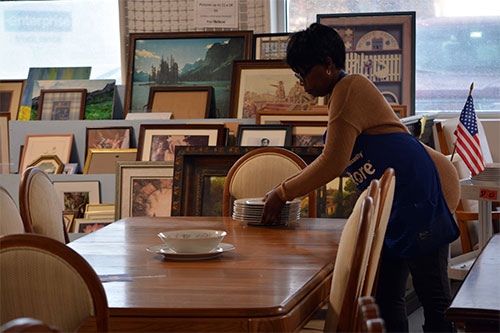 We accept many gently used items – divert waste from the landfill – AND help you make room, while giving you the satisfaction that your support has provided local families with homes, community and hope.
Remodeling, cleaning out, downsizing or just getting organized? Consider donating your excess household goods and building materials to our Habitat ReStores. We'll gladly take new and gently-used items off your hands, and you'll get the satisfaction of knowing they helped support local families and didn't end up in the landfill. All of your donations are tax-deductible.
You can drop off your donations at the ReStore Wednesday to Saturday, 10am to 5pm.
You can also click here (or call our donations line at 443-567-7698) to schedule a free pick-up of new or gently used furniture or appliances. Our pick ups on average are booked three to six weeks in advance so please plan ahead.
Or email us at restore@habitatsusq.org with your name, address, and a picture of the item(s) that you wish to donate.
If you wish to make a monetary donation to Habitat for Humanity Susquehanna, click here!

You can drop off items that will fit into your vehicle to us:
1013 Beards Hill Road
Aberdeen, MD 21001
Phone: (443) 567-7698
Donation hours:
Tuesday & Saturdays 9 am-3 pm
Wednesday-Friday 10 am-5 pm

Free Local Pick up
Pick-Up requests are processed on a daily basis when the ReStore is open, so our scheduler should contact you within a 24-48 hours.

Are you a commercial or business donor that would like to donate items? Please email us at restore@habitatsusq.org to discuss what items you would like to donate.
---
Donation items accepted
Appliances
No older than 8 years
Dryers
Microwaves
Ovens
Range hoods
Range tops
Refrigerators
Toasters, blenders and other small appliances
Washing machines
Building materials
Brick/block
Fencing
Insulation
Plywood
Trim
Unused lumber
Cabinets
Bathroom cabinets
Kitchen cabinets
Flooring
Area rugs
Linoleum
Tile
Wood
Furniture
Bedframes
Bookshelves
Chairs
Coffee/end tables
Dressers
Filing cabinets
Sofas
Tables
Home decor
Baskets
Books
Dishes
Glassware
Lighting
Ceiling fans
Floor/table lamps
Hanging chandeliers
Lamp shades in good condition
Track lighting
Plumbing supplies
Pipes
Showers
Sinks/faucets
Tubs
Donation items not accepted
Mattresses/box springs
Baby items (cribs, baby toys, mattresses)
Upholstered items with rips, stains, tears, and/or pet odors
Anything that doesn't work/needs a replacement part
Hazardous materials/chemicals
Unframed mirrors or glass
Appliances more than 7 years old
CRT(Tube) TVs
Storm windows/single pane windows
Shower doors
Metal or plastic blinds
Garage doors
Clothing
Download and Print These Reminders
Have something to donate?
---
Location:
1013 Beards Hill Road
Store hours:
Tuesday & Saturdays 9 am-4 pm
Wednesday-Friday 10 am-6 pm
Donation hours:
Tuesday & Saturdays 9 am-3 pm
Wednesday-Friday 10 am-5 pm