Repair Program
To help low income homeowners (no age restrictions) in Harford and Cecil counties live independently and keep them safe in their homes.
For more info on the program, including the Area Median Income limits for Harford and Cecil county homeowners and Veterans, read: Repair Program brochure
For questions, or to apply to the Repair Program, call: Cathy Herlinger at 410-980-7390 or email cherlinger@habitatsusq.org
Critical Home Repair
Focuses on alleviating health and safety issues. Repairs may include floors, walls, roofs, HVAC, plumbing, electrical, accessible ramps, grab bars and other accessibility modifications.
Weatherization
Designed to improve energy efficiency, indoor air quality, and comfort. Repairs may include attic and crawl space insulation, air sealing, caulking and weather stripping, as well as possible HVAC repair/replacement.
The CAPABLE Program
While the Repair Program assists income-qualified homeowners (no age restrictions), we do have some grants available specifically to help our senior population, such as the CAPABLE program.
On July 23, 2018, Habitat for Humanity International announced it received grant funding from The Harry and Jeanette Weinberg Foundation to implement a program designed by the Johns Hopkins School of Nursing that combines services in nursing and occupational therapy with Habitat's expertise in home repairs. The Community Aging in Place – Advancing Better Living for Elders, or CAPABLE, program is being implemented by Habitat affiliates in five communities in the United States, including Habitat for Humanity Susquehanna.
Habitat Susquehanna will implement the program by assessing the overall condition of a house and working in partnership with the homeowner and local health care providers to prioritize critical home repairs that will improve the health, usability and safety of the home and its owner.
To qualify, the homeowner must be at least 65 years old; have a household at or below 50 percent Area Median Income (AMI); and, face challenges with one or more daily living activities (i.e., dressing, bathing, housework, meal preparation, taking medications, etc.). The homeowner must meet the eligibility requirements and be willing to participate in meetings with the occupational therapist and nurse as part of the CAPABLE process.
Interested? Contact Cathy Herlinger at 410-980-7390 for details.
A Brush with Kindness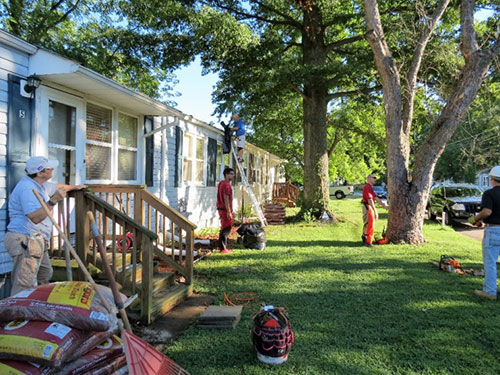 Preserving home exteriors and revitalizing neighborhoods. Helps revitalize the appearance of neighborhoods, strengthens connections within the community and helps low-income homeowners who struggle to maintain the exterior of their homes, allowing them to reclaim their homes with pride and dignity. A Brush With Kindness focuses on exterior improvement such as painting, minor siding/roofing, trim, landscaping and cleanup.
What?
Habitat will help with exterior minor repairs for homeowners: painting, re-attaching gutters, minor fence repair, light landscaping, and minor soffit/fascia attachment/replacement.
How?
Volunteers come out and help, donate materials, supply snacks and drinks.
Need a light repair?
Know someone who may?
Want to help?
Call us!
To apply for Repair Program assistance, call or email Cathy Herlinger at 410-980-7390 or cherlinger@habitatsusq.org
Sign up!
To volunteer for the next A Brush With Kindness opportunity, contact Volunteer Coordinator John Lanigan at jlanigan@habitatsusq.org.