This year marks our 5th annual Women Build fundraising competition and build! And after two years of not being able to build together, we are back and teams will be building together again! We will be building up to four homes in Havre de Grace – the last duplex in the Revolution/Stokes community and a duplex on Erie St.
Why join the Women Build?
In the U.S., more than 70 percent of Habitat's homes are built with women heads-of-household. Women Build empowers women, while raising awareness regarding the critical need for affordable housing, raising funds, learning new skills, and building homes.
The Habitat Susquehanna Women Build and fundraising competition has become our best attended event and it is simple and fun to join in.
Last year, despite our build site being shut down, teams and sponsors raised $25,000 in one month! Wow! We are so grateful.
This year the fun, prizes, friendly competition, lunches, raffles along with the sense of pride in accomplishment for a day of building something lasting and impactful together will be back!
This year, we will bring 10 Teams of up to 7 team members per team together to raise $30,000 and build together on one of the build days below.
WE ARE ALSO SELLING 50/50 RAFFLE TICKETS!
Proceeds will support this build, please if your name is picked, you will win half the money raised. Simply click HERE to purchase tickets.
HOW DOES LEADING/JOINING A TEAM WORK?
Female led teams compete to fundraise April 1- April 30, 2022. Our goal is $3,000 per team, but the skies the limit.
We make fundraising super easy by providing each team with a fundraising page, that can be easily shared digitally to help your team meet the fundraising goal.
Once again, the team which raises the most will win The "coveted" Tacky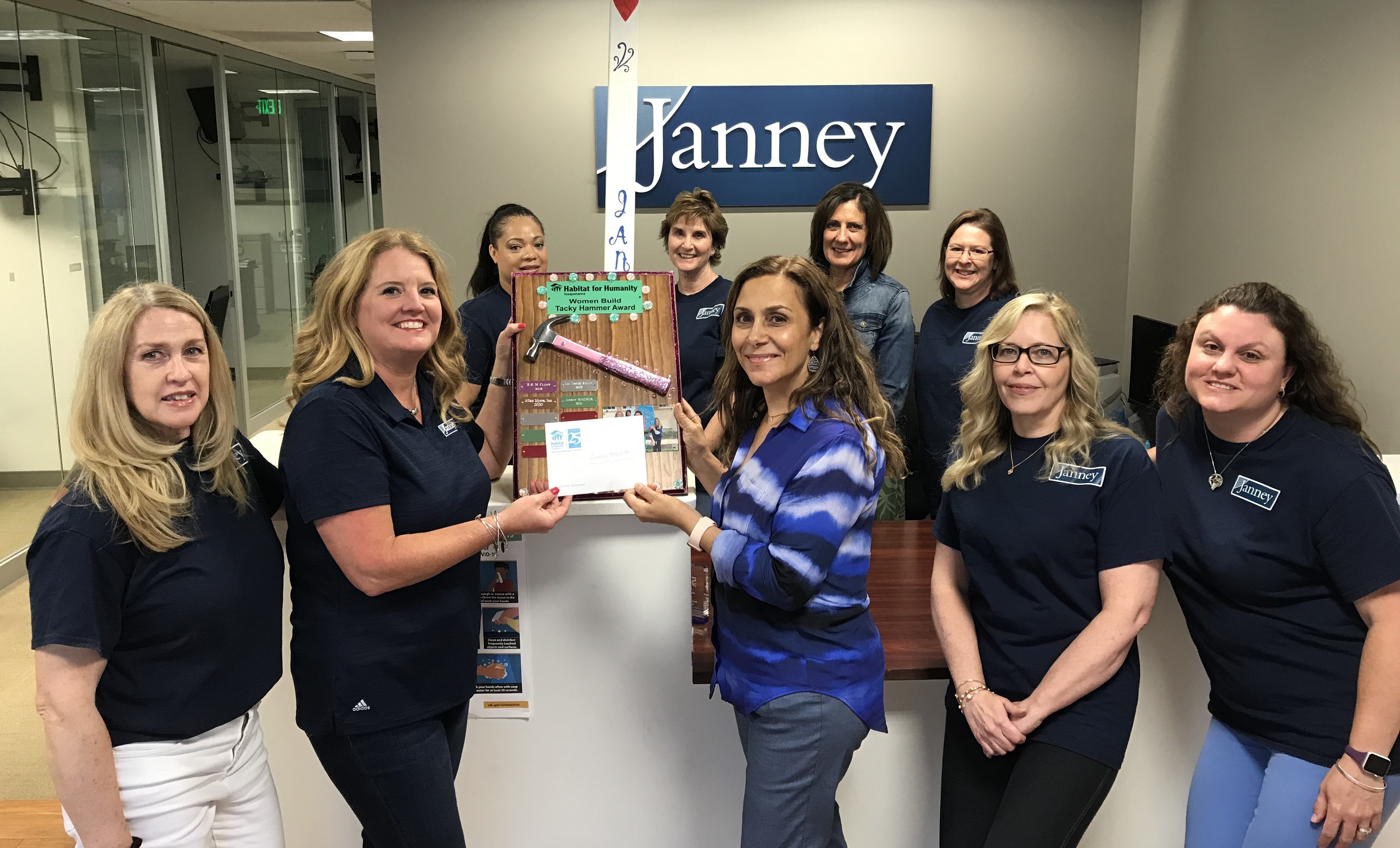 Hammer Award with their team photo and name to display for a year. Photo, at right, is last year's winning team – Janney – receiving their award.
If you are interested in leading a team, please email Phyliss at pmosca@habitatsusq.org as soon as possible because teams fill up quickly.
We are also looking for business sponsors. There are many options for sponsoring and sponsorship provides positive, local exposure for your business through email, social media, our annual report and our website. Click here to learn more about sponsorship or to pay for your sponsorship.
BUILD DAYS
There are five build days:
Thursday, May 5 – FULL: B+M Clean/Cabinetry & Stellar Coldwell Banker
Friday, May 6 – FULL: Drill Seekers Team & Emmett Fitness Team
Saturday, May 7 – FULL: Allan Myers Team & MACWIN Janney Team
Friday, May 13 – FULL: Harford Business Network Team & HCC Women's Tennis Team
Thursday, May 19 – FULL: Altus Team & Belles of Bulle Rock Team
No skills or expertise is required. We provide all the tools and oversight to teach you the skills you need to finish your tasks on the construction site for that day.
Lunch, Women Build t-shirts, swag bags and an Aveda "Ritual of Renewal" are provided to all team members who fundraise, share and come out to build.
Questions? Please email Phyliss Mosca at pmosca@habitatsusq.org.
2022 WOMEN BUILD SPONSORS
" Framing the Future" Sponsor – $3,000

"Raising the Roof" Sponsors – $1,500



$500 Sponsors


Lunch Sponsors



You can access our 2022 sponsor websites by clicking their logo above.
We are still looking for 2022 sponsors. Please click HERE to review the great benefits of each level of sponsorship and/or pay for you sponsorship. If you have questions or need additional information, please contact Phyliss at pmosca@habitatsusq.org.
YOUR BUSINESS LOGO WITH LINK TO YOUR WEBSITE WOULD be listed here for one year if you sponsor the 2022 Women Build – don't miss out!)
To learn about the four families this year's Women Build will be supporting, please click here to read Juel, Heather, "Ruth" and Kokeeta's stories at the bottom of the page.