Neighborhood Revitalization
What is the Neighborhood Revitalization program?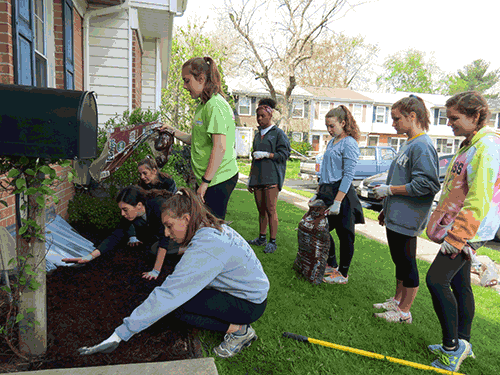 Neighborhood Revitalization works with specific communities to identify their needs and establish a plan to address them. It is through partnerships with volunteers, businesses, town officials, faith-based organizations, residents and many others that Habitat affiliates are able to create and implement a shared vision of transforming neighborhoods.
Habitat for Humanity Susquehanna's Neighborhood Revitalization program uses our efforts through A Brush with Kindness, the Repair Program, Aging in Community, and home construction/rehab projects to create safer and more inviting communities in Harford and Cecil counties.
What communities are part of Habitat for Humanity Susquehanna's Neighborhood Revitalization focus?
The neighborhoods Neighborhood Revitalization focuses on are the Harford Square neighborhood in Edgewood, the Swan Meadows neighborhood in Aberdeen, and Cecil County's Port Deposit.
How can I help?
Partnerships are key. We need the help of advocates, civic organizations, residents and community representatives to improve the places where we live and work. We need people who care about the well-being of their neighbors to step up, share their ideas and resources, and assist us in developing a sustainable plan for positive growth and change.
We are looking for volunteers who are excited to encourage, enhance and engage in neighborhood revitalization through building, repairing and cleaning communities across Harford and Cecil counties. If you want to join the movement as a volunteer, please contact our Volunteer Coordinator, Brianne Young, at byoung@habitatsusq.org, or call us at 410-638-4434.